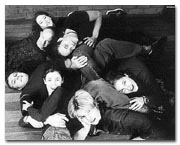 Gorgeous Productions' most recent venture was the award-winning comedy "Lovepuke". The show ran during June 2000 at The Mechanics Institute Performing Arts Centre, Brunswick, with Drew Tingwell, Perri Cummings, Kate Cole, James Shaw, Bruce Woolley, Sally McLean, Amanda Levy and Jeff Richards.
Written by New Zealander, Duncan Sarkies, directed by Melbourne actor/director, Brendan O'Connor and featuring a cast of eight of Melbourne's zaniest actors, "Lovepuke" played to full houses and got a great response from audiences and press alike.
"... outrageously funny ... in the vein of 'Friends' & 'Ally McBeal' ...
This is a wildly entertaining play that will restore your faith in theatre."
- The Flying Inkpot
"... an excellent night's entertainment. Laughs galore ...
Fast paced, fun and worth seeing. Good on you Gorgeous Productions ...
Highly recommended."
- Melbourne CitySearch
Go to the official Lovepuke site to get all the info, see the photos and meet the cast and crew of one of the funniest comedy productions of 2000.
Lovepuke site: CLICK HERE!
[back to projects]
[home] | [about] | [projects] | [directors] | [contact]
All contents of this site are © Gorgeous Productions 2000. All Rights Reserved